Title: Golden Shibe
Minted in block 337,201 (August 14, 2014) – less than one year after the launch of the Dogecoin blockchain – GOLDENSHIBE was released for sale on Nov 5, 2021, with an initial supply of 1,000 tokens. It is the first in a series of Dogermint "art tokens" which feature Dogeparty assets minted in 2014 with artwork from 2021, hand-drawn by Honolulu tattoo artist JoBiz. It remains the most popular Dogermint release to date, with sales of Ethereum-wrapped versions on OpenSea reaching up to 1 ETH.
https://dogeparty.xchain.io/asset/GOLDENSHIBE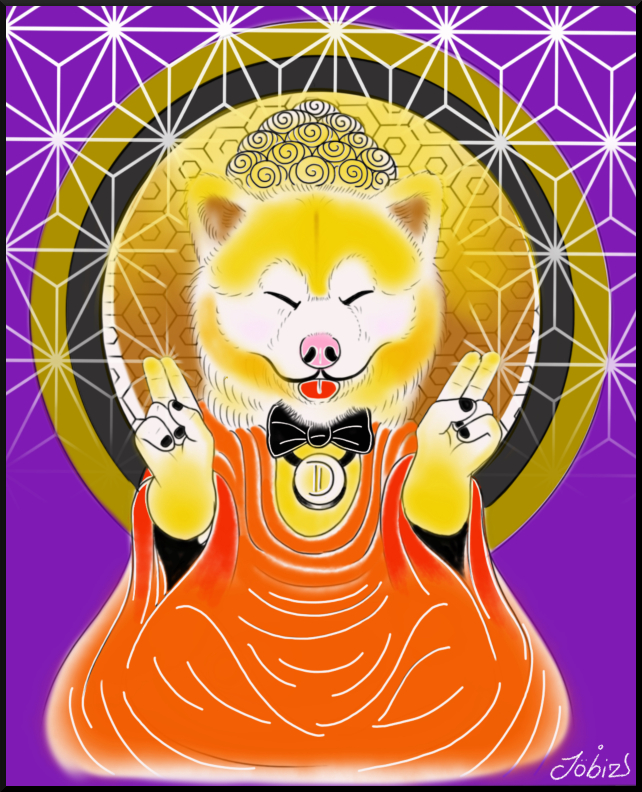 About this token
Asset Name: GOLDENSHIBE
Total Supply: 999
Blockchain: Dogecoin (via Dogeparty)
Issuance Date: Aug 14, 2014
First Sale Date: Nov 5, 2021
Artwork: https://imgur.com/a/DYtzoi6
Official Dispenser: N/A (private orders only)
If you would like to purchase a GOLDENSHIBE directly from Dogermint, please email us or contact us on Telegram. Thank you for your interest!
Dispenser sale history
Round 1 – Nov 5, 2021: 200 GOLDENSHIBE @ 15 DOGE / ea. (sold out in 186 blocks)
Round 2 – Nov 5, 2021: 200 GOLDENSHIBE @ 20 DOGE / ea. (sold out in 30 blocks)
Round 3 – Nov 6, 2021: 100 GOLDENSHIBE @ 40 DOGE / ea. (sold out in 1 block)
Round 4 – Nov 6-9, 2021: 100 GOLDENSHIBE @ 150 DOGE / ea. (private sale, per order)